Can Your Past "Sexual Behavior" Hurt Your Ability to Get a Security Clearance?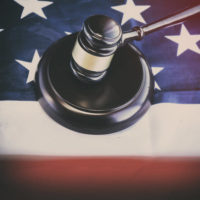 Your sex life is not a purely private matter when it comes to obtaining a government security clearance. Under Guideline D of the National Security Adjudicative Guidelines used by all federal executive branch agencies, a person may be disqualified from receiving or retaining a security clearance due to their current or past "sexual behavior." This includes a wide range of criminal and consensual sexual activity that may reflect poorly on the individual's judgment and trustworthiness.
Appeals Board Would Not Allow Applicant to "Re-Litigate" Military Rape Conviction
Obviously, sexual behavior that includes criminal assault–i.e., rape–is the type of serious offense that can render one ineligible for a security clearance. Even if you maintain your innocence or insist the misconduct was a one-time affair, the Department of Defense is unlikely to look past a credible allegation of sexual misconduct, especially if it has already been adjudicated in a civilian judicial proceeding or military court martial.
Consider this recent decision by the Defense Office of Hearing Appeals (DOHA). In this case, an applicant worked for a defense contractor and required a security clearance. The applicant was formerly an active duty military officer. He was court martialed in 2014 for the rape of a subordinate that occurred in 2005. This led to his dismissal from the military and a five-month prison term,
The applicant maintained his innocence even during the process of seeking a security clearance as a civilian. He insisted the sex with the subordinate was "consensual" and reflected a one-time mistake. A number of character references testified to the applicant's "excellent reputation" and "professional skill" in spite of his conviction.
None of this mattered much to the DOHA appeals board. It affirmed a judge's finding that the applicant "had failed to provide sufficient evidence of his rehabilitation." Indeed, the board also agreed with the judge that the applicant could not "re-litigate" his rape conviction and his continued denials only serve to prove he was not fit to hold a security clearance.
Mitigating Factors With Respect to Sexual Behavior Concerns
It is important to understand that you can still be denied a security clearance for sexual behavior that falls short of rape. Other disqualifying conditions specified in Guideline D include any pattern of "compulsive, sexual, or high-risk sexual behavior that the individual is unable to stop," or any sexual behavior that might make the applicant "vulnerable to coercion, exploitation, or duress," or that otherwise 'reflects lack of discretion or judgment."
If you are applying for a security clearance and officials do raise concern about your sexual behavior, there are several mitigating factors you may be able to cite in support of your application. If the alleged sexual behavior was limited to activity that occurred when you were an adolescent, or was so long ago that is unlikely to recur, that can work in your favor. Additionally, if you were required to undergo any kind of mental health treatment as a result of sexual compulsion or disorder, it is critical to provide officials with evidence you successfully completed the program.
It may be uncomfortable discussing your sexual history but it may be necessary in order to address any potential concerns regarding your suitability for a security clearance. It helps to work with an experienced Maryland security clearance lawyer who understands the process and will handle your case with professionalism and sensitivity. Call the offices of Henault & Sysko, Chartered, at 410-768-9300 if you need help today with obtaining your security clearance.
Sources:
state.gov/m/ds/clearances/276289.htm
ogc.osd.mil/doha/industrial/2018/16-02884.a1.pdf